Bollywood stars have huge money in their pockets and they spend this money in buying luxurious stuff. One of the expensive thing mostly all bollywood stars own is vanity van. They spent crores of rupees in buying vanity van. They spend lots of money on vanity vans beacuse vanity van is their second home and they spend their lots of time, due to this reason they spend hefty on vanity vans.
1. Shah Rukh Khan :- Shah Rukh Khan's Vanity Van is designed by Dilip Chhabria and it even has a small kitchen along with other modern amenities. The exact cost of this equipped vanity van is not known but the price is around 5 to 6 crores approx.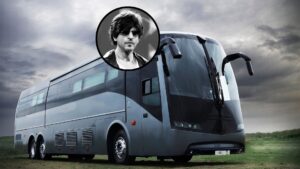 2. Deepika Padukone :- Bangalore based popular interior designer Vinita Chaitanya designed the interior of Deepika Padukone's expensive vanity van. Her vanity van has a staff area, sitting area, pantry, washroom and a personal space for her too.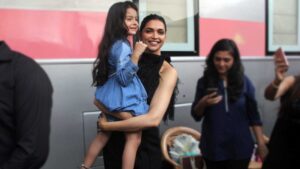 3. Salman Khan :- One of the most luxury vanity vans in bollywood industry is of Salman Khan's and it has a very modern look. The actor is reported to use his vanity van as his rehearsal room. Salman Khan spent around 5 crores on his vanity van.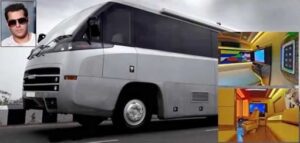 4. Alia Bhatt :- This young actress has spent almost 6 crores on her Vanity van which is fully designed by none other than Gauri Khan. She has a perfect spot inside her vanity van, where she can flaunt and pose with her outfit of the day.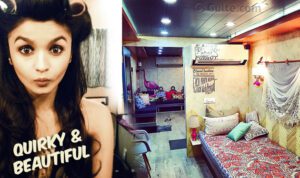 5. Varun Dhawan :- Varun Dhawan's previous vanity van met with an accident and he has bought a new one recently. The actor spends a huge amount of time inside his vanity van, which is why he wanted it very comfortable and apt for chilling.
6. Ranbir Kapoor :- Ranbir Kapoor's vanity van is his second home and he has make-up room inside his van which is grey in color. The actor's vanity van from the inside is quite simple yet classy and it has several posters inside.
7. Hrithik Roshan :- Greek God of bollywood, Hrithik has a super luxurious vanity van which has wooden and glass interior. The Vanity van is designed by Dilip Chhabria who has fulfilled all the requirements of Hrithik and its worth is around 3 crores.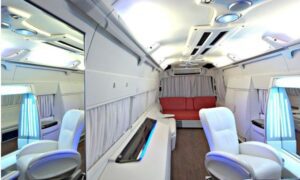 8. Akshay kumar :- The Khiladi Kumar's vanity van has cost him around a hefty amount of 5 crores and it has a luxurious recliner along with a bedroom. His vanity van also has a small kitchen and a huge dining area too.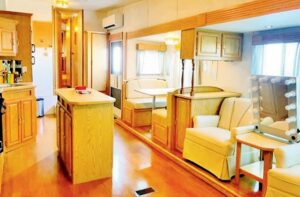 9. Ajay Devgn :- Singham actor has a very unique looking vanity van as it looks like a sports car from the exterior and it is in white color. The actor modified the interior of his vanity van into a fully equipped gym during the shoot of Singham returns.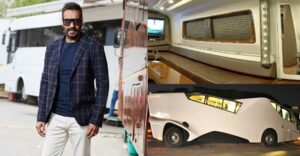 10. Sanjay Dutt :- Sanju Baba's vanity van is designed by none other than Dilip Chhabria. His vanity van is quite spacious. It has lounge area and is equipped with gaming consoles; TV, computer and it cost him around 4 crores.